ColoGuard and Industry City: largest connected campus in North America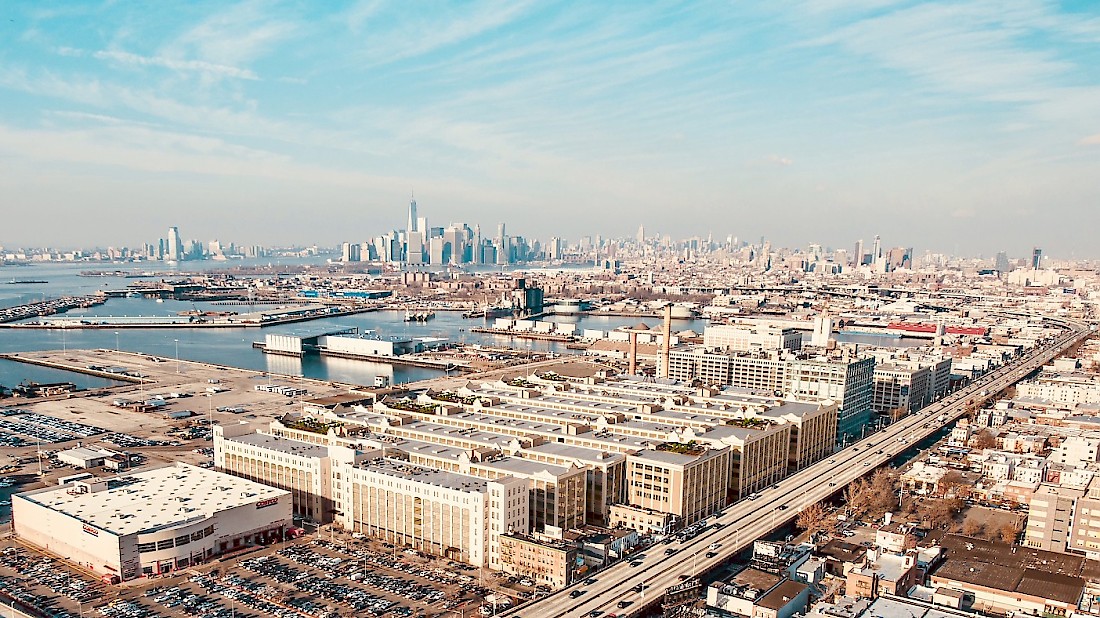 Guest post by John Danko, Director of Business Development at ColoGuard
Industry City is an industrial commercial adaptive reuse project, on a 38 acre, 6 million square foot campus, located in Sunset Park, Brooklyn, making a substantial investment in the re-development of what was known as Bush Terminal. By creating beautiful and functional space, with open landscaped areas, that promote a collaborative and innovative workspace, Industry City tenants include Time Inc., Conde Nast, The Brooklyn Nets, Gap Inc., Abelcine, West Elm, Kate Mathis Photography, and over 450+ companies.
ColoGuard is a Data Center which has a state of the art "Meet Me Room" for network and enterprise customers and operates over 40,000 square feet of colocation space on the Industry City campus. Founded in 2003, ColoGuard supports space and power from server cabinets to custom cage space, including dedicated & fully managed servers, catering to a range of businesses including Carriers, Service Providers, ISPs, Media & Entertainment, Healthcare, Government, Financial, Cloud and Peering.
The "Meet Me Room" is a physical room of all networks including; fiber, copper, landline, wireless, etc., to support the requirements of its tenants, who through that proximity, can connect directly and quickly. Typically, access to a dense "Meet Me Room" would be within a conventional data center, colocation facility or carrier hotel. This is where all these networks can converge to interconnect to one another, with the overflow advantage to just a couple or few enterprise office tenants, who happen to be in the same building. However, collectively, we have created a platform by connecting the aggregated networks of a highly functional Data Center "Meet Me Room", to the entire Industry City campus and their tenants. ColoGuard is making sure this ecosystem is outfitted with tools and options to enable the best work possible for tenants competing in the technology, media & entertainment, manufacturing, and other industries by having a choice of service providers in a competitive environment.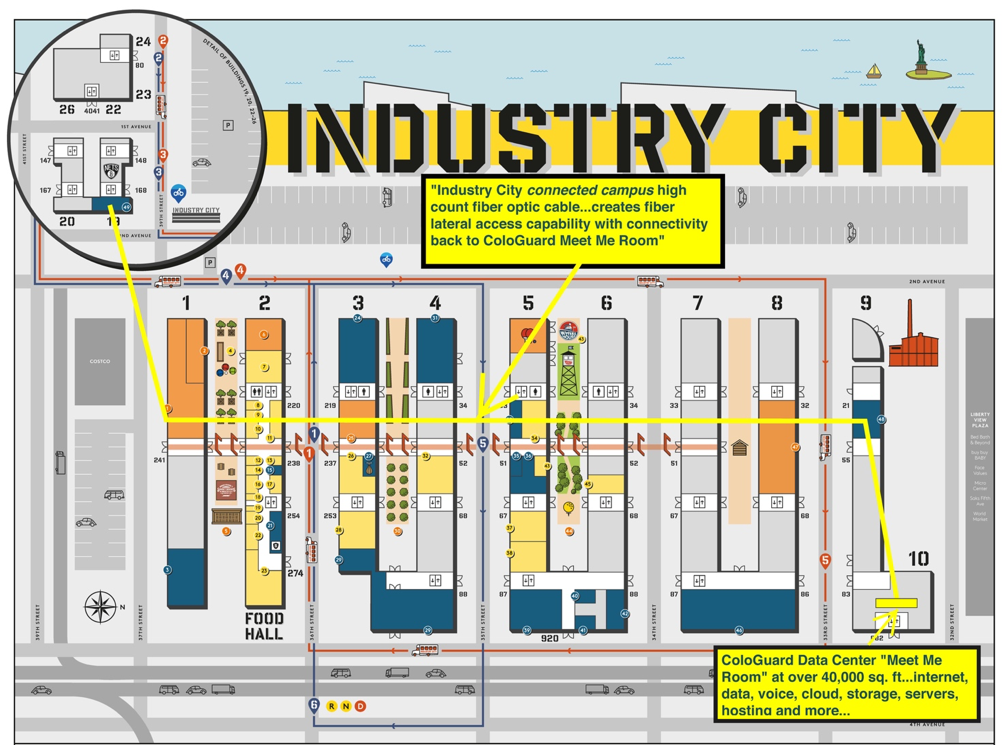 The collaboration between ColoGuard and Industry City, has created the largest enterprise office tenant connected campus environment in North America. This fully connected ecosystem allows the office tenants to smartly engineer their path to the Data Center "Meet Me Room" over campus fiber, eliminating construction impediments which can lead to significant cost and time delays, in order to realize substantial cost savings, reduced time to get new services and improve the quality of the connection, all in a facility that has redundant backed power with UPS and generators, as well as secure access.
This arrangement makes for a safe environment where the office tenant can create an extended connection of proven higher quality and security to the ColoGuard Data Center "Meet Me Room". This room is located directly on campus, where the tenant can physically interconnect their networked office communications, via a secure fiber line, to a large number of networks and service providers for granted access of broadband internet, data transport, voice circuits, cloud services, storage, international service, hosting, dedicated servers, and more.
In addition, there is also the opportunity for campus tenants to utilize the campus fiber pair to "break out" and establish their own network presence within the "Meet Me Room". This allows the customer to do multiple direct connections to multiple service providers and networks, extending their ability to implement processing power and connectivity in a distributed environment.
A connected campus environment could lead to some interesting strategic interactions, and who knows, maybe include office tenants that would find a need to connect their networks to each other? Could network peering play a role in a connected campus?
---
About the Author:
John Danko is currently the Director of Business Development for 1025Connect. Prior to joining 1025Connect, John held similar positions for ColoGuard and Jamestown 325 Hudson LP, executing the acquisition of U.S. domestic and international business for Carrier Hotel Meet Me Room (MMR) infrastructure.
---