Attendance Builds for Texas Data Center Summit -- October 22
Released on Sep 26, 2014 by SOURCE CAPRATE Events, LLC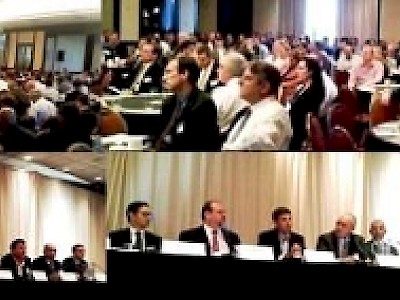 PR Newswire
DALLAS/PLANO, Texas, Sept. 26, 2014
DALLAS/PLANO, Texas, Sept. 26, 2014 /PRNewswire-iReach/ -- Texas & Central State Executives to Convene for Second Annual Summit: New Topics, New Business Development & New Venue -- October 22
The Second Annual Texas Data Center Summit will bring together the leading data center real estate and technology infrastructure executives from Dallas, San Antonio, Houston, Austin and from around the nation. 450 senior-level executives and decision-makers attended the inaugural summit in 2013; 500+ are expected in 2014.
"With the implementation of Dodd-Frank for financial services, the Patient Protection and Affordable Care Act for healthcare, and the Government's push towards cloud computing – under both the Federal Cloud Computing Initiative and the Federal Consolidated Data Center Initiative – regulations are imposing great burdens on the data center industry and their ecosystems. This is affecting contracts, SLAs, internal standards, audits, and a cadre of other compliance measures that may end up changing the way data centers can contract, potentially limiting the use of brokers. This trend will only increase over the coming months, but not from Congress, but from the independent federal agencies will the full force of law making ability. Being prepared now may save the business, whether that is a data center, MSP, tenant broker, or any other cloud provider. Join us on October 22 to learn more." Peter Adrian Kavounas, CEO & President, Cloud Strategix, LLC
View detailed agenda and registration information> http://cre-events.com/txdata2014/
Industry Blockbuster: Hear New Voices, Including the Most Active Developers & Investors
* Stefanie Beaubien Williams, Associate Analyst – Multi-Tenant Datacenters, 451 Research
* Bo Bond, Managing Director, Jones Lang LaSalle Brokerage, Inc.
* Kevin Connor, ​Director, ​Mission Critical, Skanska USA
* Chris Crosby , Chief Executive Officer, Compass Datacenters
* Robert DeVita, General Manager, Cologix
* Andy Jimenez, Vice President of Technology, Anixter
* Bob Lohfeld, CEO, Sev1Tech, Inc.
* Tom Long, Executive Vice President of Business Recruitment, San Antonio Economic Development Foundation
* Timothy Moore, CEO, DataBank
* Rob Morris, Partner, Rugen Street Capital | Managing Partner, SkyBox Datacenters
* John Regan, Vice President Data Center Division, Carter Validus Advisors
* Andrew Schaap, Vice President, Enterprise | Federal, Digital Realty
* Jonathan Schildkraut, Managing Director, Evercore Partners
* Josh Snowhorn, Vice President and General Manager – Interconnection, CyrusOne
View detailed agenda and registration information> http://cre-events.com/txdata2014/
Who Should Attend? * Commercial real estate investors * Developers * Debt sources * Equity sources * Technology service providers * Connectivity firms * Property management firms * Attorneys * Technology firms * Architects * Construction firms * Regional economic development executives
Why Participate? * Expand your real estate network with the most active and innovative firms * Gain access to the city's new buyers, developers and end-users * Hear innovative content and high-level information that will impact decision-making in the next 12-24 months * Hear candid analysis of market conditions and opportunities from industry thought-leaders * Hear new voices and new perspectives in real estate
Conference organizer testimonials:
"Great conference, good attendance – the right people. Thanks for the invite. I look forward to doing it again in the future." — Frank X. Lukas, Ph.D., Global Chief Technology Officer, Devonshire Investors International
"We continue to sponsor CapRate Events because their regional shows are well targeted and guaranteed to draw a seasoned crowd of data center experts." — Tony Campitelli, VP of Marketing, Canara
"We at DC Group are very pleased with the results of our participation in the CapRate Data Center Summit events. The industry information gained has been invaluable, as well as the industry contacts and the exposure DC Group has gained by our sponsorship and on-site presence. We highly recommend CapRate to anyone in any facet of the data center industry." — Joanna Gagliardi, DC Group
View detailed agenda and registration information> http://cre-events.com/txdata2014/
500+ are expected to attend. As of September 24, more than 200 leading seniors housing, healthcare real estate and multifamily executives from the following firms have already made plans to attend:
451 Research
AG&E Structural Engenuity
Alpheus Communications, LLC
Anixter
Bank of America
Bank SNB
Cologix
Command Commissioing
Commscope
Compass Datacenters
CRB
Cushman & Wakefield
DataBank
DFW Consulting Group
Digital Realty
Dominion Virginia Power
DRS Environmental Systems, Inc
Eaton
ECR
Evercore Partners
Evolve
Freese and Nichols, Inc.
FSG
FSG Electric
GE Critical Power
Gexa Energy
Google
Griffin Partners, Inc.
HOK
Intelligence Systems Maintenance Services
JE Dunn Construction
JLL
Jones Lang LaSalle Brokerage, Inc.
KGP Logistics
Kirksey Architecture
Krumsick Interests, LLC
Managing Partner, SkyBox Datacenters
MAPP Construction
MicroTech
Morley Moss Inc
Network Republic
Patronus Data Centers
POLARGY
Power Distribution, Inc.
Primary Integration Solutions
PUE 1.0
Quality Uptime Services
Rack Solutions
Rack Solutions, Inc.
RACK59
Rackmount Solutions
Rackspace
Ramtek
Ridgemont Equity Partners
San Antonio Economic Development Foundation
Sev1Tech, Inc.
Skanska USA
Specialty Telecommunications Services
Starline
Syska Hennessy
Syska Hennessy Group, Inc.
Tech Plan, Inc.
TierPoint
Westland Bunker
View detailed agenda and registration information> http://cre-events.com/txdata2014/
For speaking, exhibiting or sponsorship information, please contact Brian Klebash at 917-460-3572, or info@cre-events.com
Media Contact: Brian Klebash, CAPRATE Events, LLC, 646-331-8777, info@cre-events.com
News distributed by PR Newswire iReach: https://ireach.prnewswire.com
SOURCE CAPRATE Events, LLC
Related Members
Related Industry Categories
Other Tags
Newsletter
Stay up to date with the latest industry news and events.