DFC Members Receive Complimentary Pass to DCD Converged Enterprise USA, March 17-18, New York City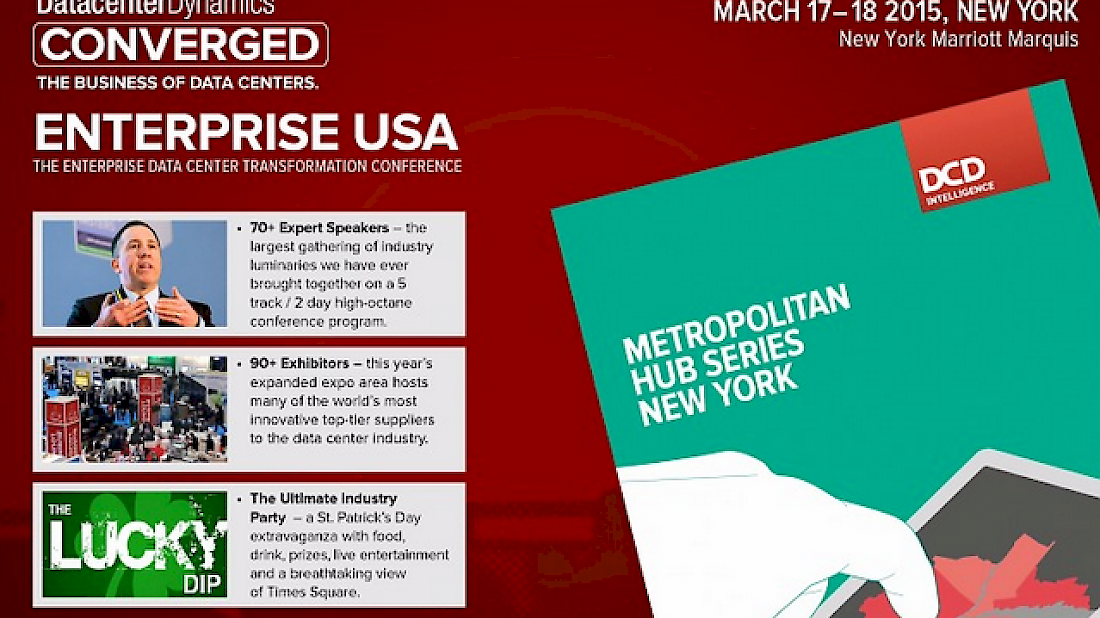 Dark Fiber Community Members receive a complimentary pass* to DCD Converged Enterprise USA, taking place March 17-18, 2015 at the Marriott Marquis in the heart of Times Square in New York City.

To confirm your place simply register your details via this personalized link.

DCD is consolidating nine, one-day regional-market events to three much larger-scale two-day events focused on the three primary data center vertical classes – Enterprise, Internet, and Services.

Your complimentary registration grants you access to:
2 days of invaluable insights from leading industry practitioners
5 conference tracks delving into the topics that concern you most
90+ exhibitors showcasing the latest technologies and solutions available today
Solution stages with rapid-fire 15-minute presentations to get you up to speed on the latest data center innovations
Complimentary "Taster" Training Sessions of DC Professional's most sought-after courses
Ample networking opportunities including a drinks reception and exclusive St. Patrick's Day party
Featured speakers include:
Cole Crawford, Chair, StackingIT, CEO, Vapor IO
Mac Devine, VP/CTO, SDN & Innovation Services Cloud Division (SoftLayer), IBM
Donald Duet, Managing Director, Co-Head, Technology, Goldman Sachs
James Glanz, PhD, Journalist & Physicist, The New York Times
Kfir Godrich, Managing Director, Global Head, Technology, BlackRock
Alissa Johnson, PhD, Deputy CIO, The White House
Sudhir Kalra, Executive Director, Technology & Data, Morgan Stanley
Doron Kempel, Chairman & CEO, SimpliVity
David Nelson, Chief Strategist, Cloud Computing, Boeing
Mohammed Safder, Global Lead, IT Strategic Services, HP
Rhonda Vetere, CTO, The Estée Lauder Companies
Places are filling up quickly, so we urge you to secure yours today.

As a special thank you, you will also be receiving a complimentary copy of DCD Intelligence's Market Abstract: New York (a $1,425 value). This report gives you a coherent view of capacity, costs and constraints, and the market drivers that will shape future data center development in the Tri-State area.
Please contact Michael Curtin, Strategic Account Director, North America, DatacenterDynamics, at michael.curtin@datacenterdynamics.com for more information.

We hope to see you there.
For similar promotion of your online content, click here to become a member of the Dark Fiber Community.
Please be sure to check the Dark Fiber Community blog for the most up-to-date news from our members.
---