Allied Fiber Jacksonville Roadshow
June 3 - 4 2015
The next Roadshow will be June 3rd and 4th at the JAX NAP located at 421 W. Church Street in Jacksonville, FL. During these sessions you will explore Allied Fiber's dark fiber pricing model, brainstorm regarding future peering relationships, learn about the strategic partnership between Allied Fiber and JAX NAP, and dive deeper into Allied Fiber's colocation strategy. We will also look to you for feedback on our future segment builds and input on where you would like to see us build to next.
Session 1:Wednesday, June 3rd from from 10:00am – 12:00pm
Session 2: Wednesday, June 3rd from 2:00pm - 4:00pm
Session 3: Thursday, June 4th from 10:00am – 12:00pm
Location:
JAX NAP conference room
421 West Church Street, Suite #802
Jacksonville, FL 32202
*Thanks to our BTI Systems coffee and breakfast will be served during the morning sessions and lunch will be provided in the afternoon
Please RSVP to Lauren Sauer at lauren.sauer@alliedfiber.com and include your preferred session date and time. If you would like to bring a colleague or partner, please include their name and contact information.
We hope to see you there!
Attending Members
Are you a DFC Member attending this event, but not listed here? Let us know!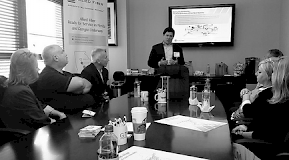 Location
JAX NAP
421 W Church Street,
Jacksonville, FL
Contact